The Talk About Us
"We're not just 'tooting our horn'...
I believe we have the entire orchestra here!!! "


Comments from some of the people who have visited VenturaCountyToday.com website.


"Great Web site. This is by far one of the best web sites I have ever seen...talk about user friendly." K.W.

"Thanks so much for your support. Terrific web page." L.J.

"Your web site is awesome! Keep up the good work." H.N.

"I checked the restaurant page. It is great." A.D.

"Great site!" R.S.

"Thank you so much for posting our event to your web site. We greatly appreciate it. You do such a huge service to the community. I can't believe how many events are in your calendar." A.L.

"Thanks for your continuing support of the musicians in Ventura County. People have "found" me because of the web listing." J.C.

"Your site loads quicker than any other I've known. It looks really nice!" M.B.

"We were checking out your awesome website and we would like to have (our business) be a part of it. What is the next step?" D.W.

"We really appreciate your prompt response. You're doing a terrific job." J.W.

"Thank you for providing your service to Ventura County business." R.R.

"Your site looks very informative and I appreciate you making (us) part of it." T.T.

"Website looks great...a nice concentration of all the information that anyone could use for planning just about anything. The other nice thing is the conspicuous lack of extraneous advertising and pop-up windows which make surfing other sites so tedious. Kudos to you" L.P.

"I've taken a look at the VenturaCountyToday website and really like what I saw." G.

"VenturaToday site...is poignant, timely and very well done. The information is well collected and organized. It is easy to manipulate through the links to find a wide variety of welcomed information. VenturaToday has a professional look and feel of competent, reliable information for the well informed visitors of the area. Thank you for making the site available for those of us that are interested in learning more about the area." L.M.

"Your website is a fun place to browse. Now that I have discovered your site, I intend to become a regular." C.P.

"Thanks Ritch for all your postings. We have had good turnouts at our dinner meetings this year thanks to all the postings." P.D.

"I enjoyed looking through your site today. It is very informative and well organized." S.L.

"We're delighted to be part of your website. It's full of good information. Thanks." E.M.

"I am impressed with your web page! I like your use of colors, and that the viewer can view things happening today, tomorrow, etc. Great job! It looks good, is inviting and very informative." C.S.

"Thank you so much for this service and for including us. The web page looks great, is easy to use and very informative." C.P.

"Thanks for listing our plays and musicals." E.B.

"I was checking a search engine with the name of our group to see if our web page would register. One of the links that came up was your site, due to the listing of our performance. Thanks for the listing." S.W.

"Great site!." M.P.

"Really like the web page." M.M.

"I am impressed. Great job! It's a website people from all over can view and see what's happening in beautiful Ventura. It's really exciting." M.O.

"It's looking better all the time!" J.B.

"I like the organization of the local events." L.R.

"I enjoyed visiting your website and found the information very helpful..." R.P.

"Your site is great!...Thanks." M.M.

"WOW-I am really impressed with what you have done with this web page, Rich!" C.S.

"Your site gives a nice overview of the old Ventura landmarks. I really enjoyed reading through it. Thank you for the informative site." D.R.

"I just visited your website. It's great! Colorful and very inviting." S.S.

"Just found your website and how nice it was to find old memories. Thank again for the TOUR! "L.S.

"Great website! I just started hopping around and reading all the wonderful information you provide. What a great service you're providing to the community and beyond." C.S.

"A thousand thanks for your coverage!" A.K.

"I checked out your site and it looks great. Very informative." S.F.

"I really like your site. It has great information on it." M.G.

"Great and highly enjoyable web page." S.W.

"I found your site when looking for info about California. Very nice and informative. I have added a link on my site to it." J.K.

"Good website. I'll be using it a lot to plan weekends." S.G.

"What a wonderful site, and good information." S.M.

"I love your website." K.S.

"Your site is about the best I have seen for content." T.H.

"I think your website is great! I love Ventura and your website is doing good." L.P.

"I think you have a fantastic site, and would love to have you as a strategic link partner...keep up the great work." A.W.

"Very interesting and informative." L.H.

"Thank you for the trip down memory lane with your "Remembering Ventura Business Legends!" I moved to Ventura in 1976 and remember MANY of the listed businesses. Oh, for the good ol' days. Downtown, especially, has really changed." L.&A.M.

"We are thankful to you and honored to have been listed on your entertainment site." DLFF, Oxnard

"I truly appreciate the event information supplied by your website. Thank you so much for providing this information." S.F.

"I was looking through your site at your restaurant listings which were very helpful." R.W.

"Browsing on the Internet I came upon your website (venturatoday.net) and I find it very interesting and useful." D.L.

"I was browsing around the web and I love your website." C.E.

"Your whole site looks like a terrific place to find interesting things to do." D.W.

"We wanted to say thank you for your page, www.venturatoday.net/presidents.html all the way from Nebraska! My History Club found your resources to be very helpful for their group project!" M.G.

"Rich--thanks. A lot of people come to the events I send you because they found it on your site! You were a big hit with people who wanted to know about Conejo Valley Days. Thanks again." D.R.

"Thanks...I have found many great restaurants using your site." D.Z.

"I just found out about your terrific website." C.K.

"Love your website. Thank you for maintaining it, as it always gives us something to do around town." D.V.

"I just wanted to say that your website is one of the best I've seen! It's so accurate and updated. Most of the time, the websites I come across can seem to look great but they have so much wrong/outdated info! I know it takes a lot of work to be so detailed and accurate and I wanted to let you know your work is greatly appreciated by people like me! Thanks a bunch!" V.S.

"Just wanted to tell you I like the new front page. You've been busy updating. Thanks for your help." L.G.

"Your site looks great and is filled with useful information." D.V.

"I'm not sure what rock I've been hiding under, but I just discovered your website. Looks great! I will be a frequent visitor from now on." K.F.

We're easy to find, using the major search engines.
Search "ventura business", "oxnard business", "camarillo business", "conejo valley business", "thousand oaks business", "simi valley business", "ventura county restaurants", "ventura county events". You'll find our "BEST of Business..." usually listed within the top 20 with all four major search engines.
VenturaCountyToday.com
Stats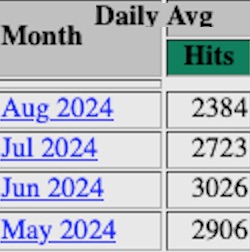 CLICK HERE for HOME page.