Camarillo categories currently available: Accountant, Appliances, Attorneys, Automobile Parts, Automobile Rental, Batteries, Beauty Supply, Blinds, Books, Cellular Phones & Pagers, Cemetery, Chiropractors, Cocktail Lounges, Computers , Dental Office, Dry Cleaning, Electrical Contractor, Equipment Rental, Gift Shops, Hardware, Health / Fitness, Heating / Air Conditioning, Hotels / Inns , Locksmith, Medical Equipment, Office Equipment, Optometrist, Pest Control, Pharmacy, Photographer, Physical Therapist, Physician, Plumbing Supplies, Printers, Property Management, Real Estate, Tile Contractor, Towing, Travel Agencies.
The City of Camarillo
Population 65,201
Area 19 square miles
Avg. High 72 degrees F
Avg. Low 49 degrees F
Avg. annual rain 13.4 in.
Elevation 130 ft.
Business Category List (continued)
Businesses & Professionals listed here have been carefully selected to provide YOU with what we believe to be the 'BEST of Camarillo!' We know that you will be pleased with their goods and services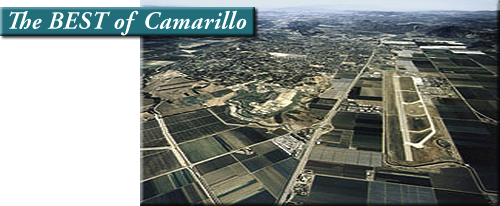 To recommend a business or to inquire about adding 'Your' business Phone (805 ) 437-6218 or send us a note.