CONEJO VALLEY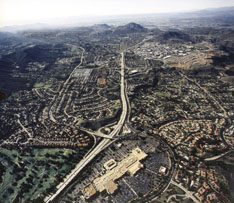 The Conejo Valley has evolved from a rural Ventura County settlement into an attractive and desirable Southern California City. Thousand Oaks offers the ideal mixture of commercial, industrial, residential and recreational space in an exceptional location.

The City's history dates to the Chumash Native Americans who dwelled in the Conejo Valley hundreds of years ago. In 1542, the area was discovered by Spanish explorer Juan Rodriguez Cabrillo, who claimed the land for his Spanish king. The area remained virtually unsettled until the early 1800s when the Spanish governor granted 48,671 acres of land grants to loyal soldiers - land which included the Conejo Valley. (Conejo is the Spanish word for rabbit which are abundant in the area.)

Throughout the 19th Century, early pioneers migrated to the area. The first post office was built in 1875, and the small settlement became a stop on the stagecoach route between Los Angeles and San Francisco. With the invention of the motor car and the construction of a highway between those two major cities, the Conejo Valley began to evolve.

In the early 1900s the Janss Family purchased 10,000 acres of farm land and began planning a "total community." The family would leave a positive local imprint, and the Janss name remains highly visible in the Conejo Valley.

Chicken ranches, dairy farms and apricot orchards dotted the valley when Louis Goebel opened his Lion Farm in 1927. Crowds flocked to see Goebel's performing jungle animals. In later years, his tourist attraction was called Jungleland. Soon the motion picture industry discovered the Conejo Valley's beauty. Scenes from "Birth of a Nation," "Tarzan," and "The Adventures of Robin Hood" were filmed here. Today, that trend continues with movies, television shows and commercials being filmed or videotaped within the City and adjoining areas.

By 1961 there were two shopping centers, an industrial park, schools, churches and a four-year liberal arts college in the growing town. On Sept. 29, 1964, the community voted to incorporate and selected the name, City of Thousand Oaks, honoring the abundant, majestic oak trees in the area. In the first years of Cityhood, nearly 20,000 persons lived within the 14.28 square miles of the newly drawn boundaries.

Since incorporation, the City has developed into a quality community, integrating effective planning and citizen involvement. Having grown to 56 square miles with more than 127,000 residents, City officials remain dedicated to offering an envious family lifestyle.

In an effort to maintain its natural environment, more than 14,000 square acres have been designated as "Open Space" containing more than 75 miles of trails. This preserved space allows residents to enjoy the same natural beauty that the Chumash Native Americans first enjoyed hundreds of years ago.


CLICK HERE for HOME page.