The Cross on the Hill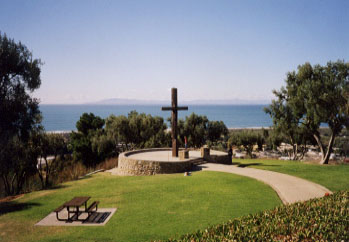 The Franciscan Padres wanted to let travelers - arriving by land or sea - know where Mission San Buenaventura was located. They chose the symbol of their faith - the cross - to be their welcoming beacon.




The Serra Cross stands today on "La Loma de La Cruz" - Hill of the Cross - on what is now known as Grant Park, 800 feet above the Old Mission. It looks down on a harbor in which Cabrillo once sailed.




When Father Junipero Serra erected the cross on Easter morning, 1782, he did not intend for it to bear his name. His purpose was to mark the point on the coast where he would build his third Mission. Because of delays, however, San Buenaventura actually turned out to be the ninth Mission and the last to be built by Father Serra.




After it was put in place on the hill above the Mission, Father Serra's cross welcomed visitors for almost fifty years. Eventually the elements weakened the base and his cross fell. It was soon replaced, retaining the original scroll and cross piece. But when this second cross blew down in 1875, the cross piece was entrusted to the Ventura County Museum of History & Art, where you can see it today.




Ventura did without a cross on the hill from 1875 until 1912. Then a group of interested citizens constructed a third cross, exactly faithful to the original specifications and site. Trucks were used instead of Chumash Indians and pack animals, but the same Jeffrey Pine of the original cross was brought from the same spot in Santa Paula canyon. And this time the base was mounted in a zinc cylinder with concrete support.




A modern addition is an illuminated panel lining the base of the cross that truly turns it into a beacon for land, sea and air. The resurrected cross, now in its third version and electrically lighted, has come a long way from the original version; but then, so has the city it overlooks.




CLICK HERE for HOME page.